1. Human resources policies
ARÚB currently employs 81 employees, of whom 30 work as researchers (including doctoral students). Women and men are represented as follows:
| | women | men | women % | men % |
| --- | --- | --- | --- | --- |
| Academic and research staff: | 9 | 21 | 30 % | 70 % |
| Other staff: | 30 | 21 | 59 % | 41 % |
| Total: | 39 | 42 | 48 % | 52 % |
The principle of equal opportunities is applied both in the vacancy announcements and during recruitment processes. Due to the frequent shortage of qualified candidates, the quality of the applicant is preferred, regardless of gender, social status, religion, sexual orientation, nationality or health condition. The ratio of men and women in academic positions reflects the general situation in the field of archaeology. The ratio in other positions has been improving since 2020.
Since 2022, ARÚB has been actively involved in the Czech Academy of Sciences' programme Researchers at Risk Fellowship aimed at researchers who face persecution or are threatened by war.
2. Gender equality plan
Researchers at ARÚB follow the Code of Ethics for Researchers of the Czech Academy of Sciences and take into account gender issues to reduce gender imbalances and inequalities – in their grant projects, and the interpretation and presentation of research results.
Measures taken to date:
In October 2020, ARÚB obtained the LOGIB Certificate within the framework of the "22% for Equality" project implemented by the Ministry of Labour and Social Affairs of the Czech Republic (the certificate is transparently published on the ARÚB website). The analysis showed that ARÚB does not create a pay gap between male and female employees based on gender.
We are currently cooperating with the Ministry of Labour and Social Affairs of the Czech Republic on updating the LOGIB Certificate to review the latest development regarding the pay gap at ARÚB.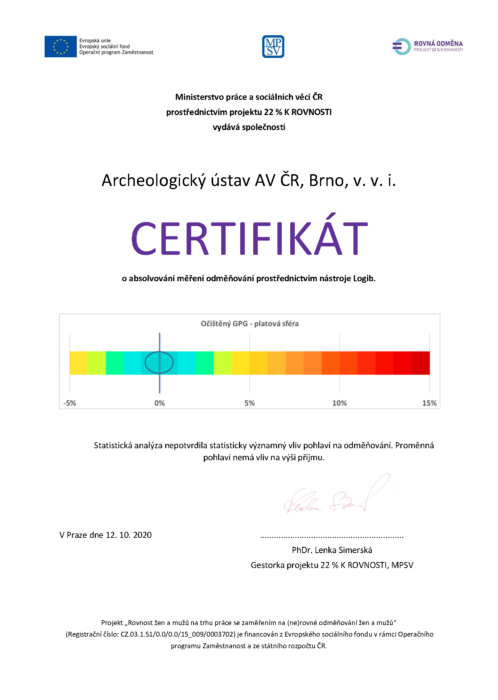 Planned for 2022:
In 2022, ARÚB initiated preparations to establish a Gender Equality Plan (hereinafter referred to as GEP), which is in line with the objectives of the European Union and the Ministry of Education, Youth and Sports of the Czech Republic aimed at promoting equality between women and men in the workplace. ARÚB commits that no later than 1 December 2022, the GEP will be established and published on the ARÚB website.
GEP time-schedule:
A coordinator responsible for establishing GEP at ARÚB will be appointed. The coordinator will undergo the Gender Equality in the Scientific Organisations and Gender Equality Plans course managed by the Centre for Gender & Science of the Institute of Sociology of the Czech Academy of Sciences.
Introductory training for head researchers and members of the Board of the Institute will be organised to introduce gender equality indicators and adopt the European Charter for Researchers and a Code of Conduct for the Recruitment of Researchers.
Further steps regarding GEP will be identified (preparing the implementation of a gender audit or action plan at ARÚB as a basis for GEP).