Dne 15. května ve 12:00 došlo k poklepání základního kamene právě vznikajícího Návštěvnického centra Mušov – Brána do Římské říše. Kladívka se chopili předsedkyně Akademie věd ČR prof. Eva Zažímalová, starostka obce Pasohlávky Martina Dominová a ředitel Archeologického ústavu AV ČR, Brno, v. v. i. Lumír Poláček.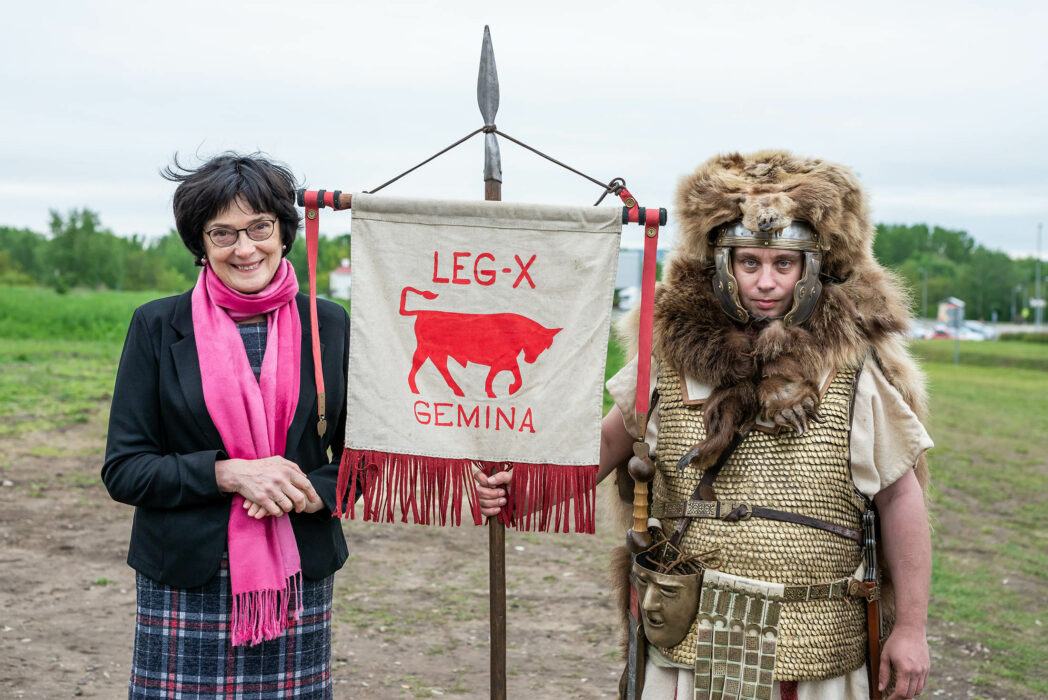 Za účasti řady významných představitelů jak ze sféry akademické, tak i ze sféry veřejných institucí a regionálních samospráv, včetně osobní účasti zástupce regionu v Parlamentu České republiky senátora Rostislava Koštiala, byly prosloveny zdravice a přání k tomuto projektu, jehož ideovou náplň představil autor celého konceptu Balázs Komoróczy z Archeologického ústavu AV ČR, Brno, v. v. i. Ten ve svém proslovu vyzdvihl mimo jiné tvůrčí a plodnou spolupráci s generálním projektantem, Ing. Arch. Janem Snášelem ml. ze společnosti Livingstav a také příkladnou podporu myšlenky prezentace Římanů v Pasohlávkách ze strany obce a zde aktivních společností podílejících se na tvorbě nabídek pro cestovní ruch. Generálním dodavatelem stavebních prací je Moravská stavební unie.
Proč název Brána do Římské říše?
"Má to několik symbolických rovin. Lokalita mohla být branou k tomu, aby se část území České republiky přetvořila v provincii Římské říše. Zároveň je to symbolická brána, díky níž se i Česká republika může cítit být propojená s tímto starověkým státem. Je to nejvíce autentická římská lokalita na našem území. Třetí významovou rovinou je poloha vznikajícího návštěvnického centra. Skrze něj jednou snad bude možné vstoupit do celého prostoru této rozsáhlé lokality." říká Balázs Komoróczy.
Předpokládaný termín otevření je pololetí roku 2020.
Foto: Jana Platichová (SSČ AV ČR), David Cibulka (ARÚB)