Zveme odbornou i širší veřejnost na 30. mezinárodní konferenci "Grundprobleme der frühgeschichtlichen Entwicklung im mittleren Donauraum".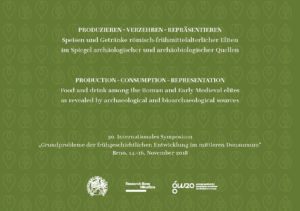 s podtitulem Produzieren – Verzehren – Repräsentieren : Speisen und Getränke römisch-frühmittelalterlicher Eliten im Spiegel archäologischer und archäobiologischer Quellen.
Production – Consumption – Representation : Food and drink among the Roman and Early Medieval elites as revealed by archaeological and bioarcheological sources.
Akce se uskuteční 14.–16. 11. 2018 v konferenčních prostorách Archeologického ústavu a na Výzkumné základně Mikulčice-Trapíkov.
Spoluorganizátorem je Leibniz-Institut für Geschichte und Kultur des östlichen Europa (GWZO).
Ke stažení: